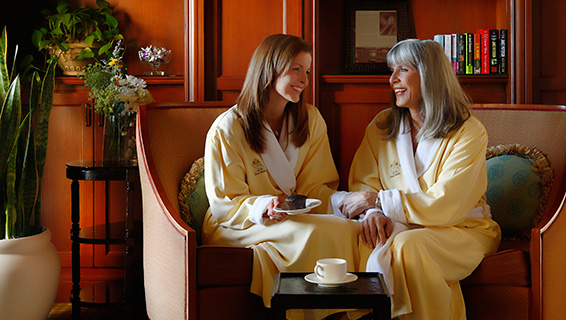 The perfect Place for Groups to relax
Group Visits
The Spa considers a "group" to be 5 or more guests. Please contact Spa Group Sales or Corporate Group Sales based on the needs of your group.
In addition to our treatments, The Spa At The Hotel Hershey offers salon services, dining in The Oasis (a spa guest-only restaurant), complimentary fitness services, and a variety of social and quiet lounge areas.
While we welcome groups of all sizes to enjoy our services and amenities at The Spa at The Hotel Hershey, we do not offer group discounts or special group packages.
To expedite your check-in, complete and print the health questionnaire prior to your visit.
Health Questionnaire
Group Policies
Please note the following policies and guidelines for The Spa At The Hotel Hershey:
We require a minimum of 8 weeks advance notice to book Saturday Spa services.
Treatments that have been selected and confirmed may not be changed on the day of services.
All changes to group bookings must be made 72 hours prior to the date of services. A full cancellation fee will be charged for any services cancelled within the 72-hour window.
Treatment times are based on availability and may change 15-30 minutes, as scheduling requires.
Guests must be a minimum of 13 years of age for teen services and 18 years of age for all other services.
Some treatments are not suitable for pregnant guests.
You may request a male or female therapist when scheduling treatments, however, we cannot guarantee this preference. All of our therapists are professionals and are trained to provide you with the utmost comfort during your Spa experience.